PROJECT OVERVIEW
Ascensia Diabetes Care is launching an innovative project to support NHS organisations such as NHS trusts, Clinical Commissioning Groups or NHS medical practices across the UK provider that want to drive person-centred, sustainable behaviour change for their patients living with type 2 diabetes.
Ascensia is giving the opportunity for NHS sites to offer free access for 200 people across the U.K. living with Type 2 diabetes to an award-winning behaviour change platform (The Low Carb Program) that has the potential to put their Type 2 diabetes into remission.
WHY IS ASCENSIA SUPPORTING THIS INITIATIVE?
The Low Carb Program is an award-winning, patient-centered behaviour change platform that facilitates sustainable weight loss and blood glucose control through education, resources and, most-importantly, support for patients that they may require when reducing the amount of sugar (or carbohydrates) in their diet.
Ascensia already has compelling evidence as to the effectiveness of the platform in improving glycemic control and weight loss within the first 12 weeks, as well as reducing hypoglycemic medications1 and therefore is seeking forward-thinking NHS sites to be early adopters of the programme and share best practice case studies of implementation.
JUDGING CRITERIA
A panel comprising a cross-section of NHS Type 2 diabetes HCPs will score the applications based on demonstration of the following criteria:
Rationale and motivation for wanting to implement this program
Clarity of project scope
Delivery model and stakeholder engagement
Project management and infrastructure
Readiness and speed of mobilisation
Success criteria and plan for evaluation of outcomes
APPLICATION PROCESS
Please download and complete the application form (available at the link below) and submit your application to adc.ddm@ascensia.com by closing date of 10th July 2019. You will receive an email confirmation when your submission has been received.
Sites must complete the application form and commit to the following:
An implementation plan for commencing identification and initiation of patients on the Low Carb Program within 8-10 weeks of notification of successful application
Evaluation of impact of the Low Carb Program on HCP and patient behavioural change
Agreement for Ascensia to write up and share the outcomes of the local initiative for publication as a case-study with testimonials from your HCPs
TIMELINE:
| Milestone | Timeline |
| --- | --- |
| Download and review application form and consider best approach for implementation with local stakeholders | 10th June onwards |
| Ascensia judging panel to review all submissions and shortlist finalists | 10th July |
| Communication of outcomes to all applicants | 15th July |
ABOUT THE LOW CARB PROGRAM
The Low Carb Program was developed by Diabetes Digital Media (DDM) in collaboration with Dr David Unwin, the RCGP National Champion for Collaborative Care and Support Planning in Obesity & Diabetes, RCGP Clinical Expert in diabetes and 20,000 patients with Type 2 diabetes.
It has peer-reviewed outcomes, published in the Journal of Medical Internet Research (JIMR) Diabetes. Outcomes at year one include an average weight loss of 7.4kg; 39% of members completing the programme reduce their HbA1c below the Type 2 Diabetes threshold and 1 in 4 place their Type 2 Diabetes into remission1, saving the NHS on average £8352 per patient, per year, in reduced medication costs. The Low Carb Program is QISMET approved for NHS commissioning and included in the NHS App Library. It is also certified as a MHRA Grade 1 Medical Device and has a CE Mark in compliance with EU regulations.
The Low Carb Program is highly scalable and has over 400,000 users globally, managing population health. In January 2019, Diabetes Digital Media (DDM) and Ascensia Diabetes Care joined forces to help implement the Low Carb Program in the NHS. Ascensia Diabetes Care is using its skills, expertise and field force, to bring the programme to the NHS. The partnership will enable more people across the UK to sign-up for the Low Carb Program by encouraging GPs to make it available on the NHS. Ascensia Diabetes Care will support NHS healthcare professionals who play a role in managing people with pre-diabetes, Type 2 diabetes and obesity to implement the programme at their surgeries, enabling them to offer the programme to their patients on the NHS as a solution for population health.
The Low Carb Program comprises:

Goal-focused education
Personalised education and actions tailored to achieve health goals.

Behaviour change mentors
Mentors help keep patients motivated to achieve their goals.

Personalised Care
Tailored experience to fit their lifestyle, goals and preferences.

Support
Unlimited 24/7 peer and community support.

Resources
Library of resources, guides and expert Q&As.

Recipes and meal plans
Wide choice of recipe ideas for various dietary requirements.

Health tracking and Insights
Track health and nutrition to receive biomarker feedback and insights. Connect to Bluetooth® enabled devices and wearables.

Healthcare professional support
Tailored implementation support to help get it established within Primary Care Organisations or Practices. Dashboards to demonstrate local engagements and outcomes.
WHY IMPLEMENT THE LOW CARB PROGRAM FOR YOUR PATIENTS?
In the first year of a three year study2 which followed 1,000 people with type 2 diabetes, the following outcomes have been found and peer-reviewed.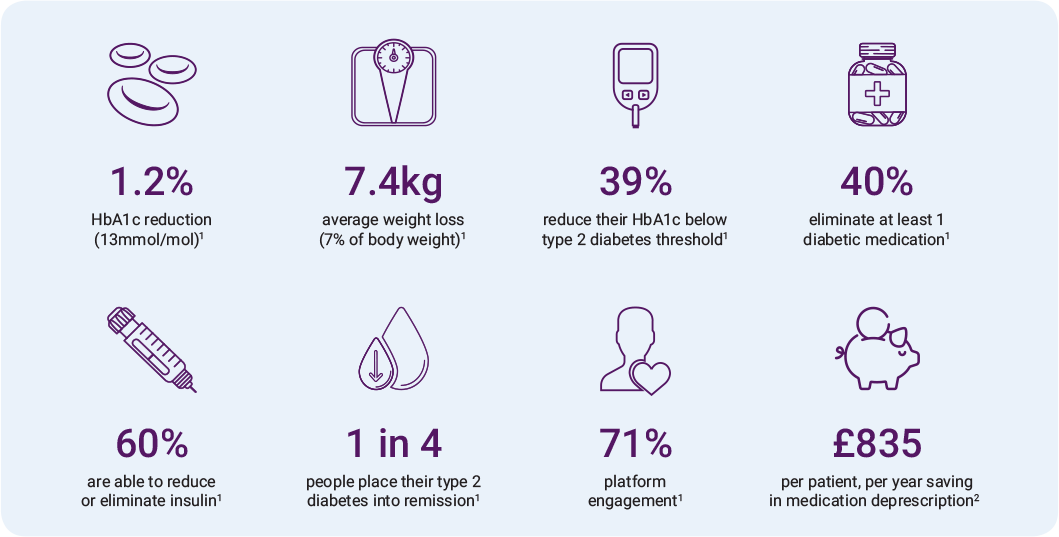 For more information about the Low Carb Program visit www.lowcarbprogram.com/nhs
References:
Data on file, Diabetes Digital Media 2018
Laura R Saslow, Charlotte Summers, James E Aikens, David J Unwin. Originally published in JMIR Diabetes (http://diabetes.jmir.org), 03.08.2018