BUILDING PARTNERSHIPS AND ALLIANCES
At Ascensia Diabetes Care we appreciate the power of mutually beneficial partnerships and alliances. Such collaborations have contributed significantly to the development of groundbreaking products and technologies, and have at the same time increased our knowledge of diabetes and its management by sharing expertise and experiences.
Our technology and innovation partners help us to explore new ways of delivering cutting-edge diabetes management solutions. We also work closely with healthcare professionals, academic institutions, and patient groups around the world to ensure that the requirements of people with diabetes are central to everything we do.
Our current alliances and technology partnerships fall into two categories. Glucose monitoring and insulin delivery partnerships and diabetes data management partnerships.
Glucose monitoring and insulin delivery partnerships enable highly accurate blood glucose meter readings to be used for calibration or insulin dosing of continuous glucose monitors and insulin pumps. Through these partnerships we are aiming to be calibration partner of choice for insulin pump companies and continuous glucose monitoring system manufacturers.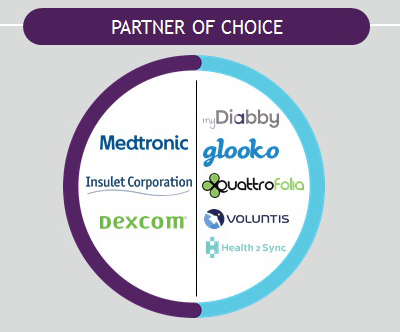 Diabetes data management partnerships allow data from Ascensia meters to be collected and used by partner software and apps. These partnerships are enabling us to expand further into interconnected diabetes management by supplementing our own CONTOUR®DIABETES app. By linking our connected meter to a network of partner software solutions it allows people with diabetes to use the software solution that best meets their needs, in conjunction with our highly accurate meters and strips.
If you or your organization is interested in working with Ascensia, please contact us.
OUR ALLIANCES
Ascensia Diabetes Care prides itself on the alliances and partnerships we have developed over the years and around the world. Below are details of our existing partnerships:

Ascensia has an international alliance with Medtronic to develop and market innovative diabetes management solutions for patients worldwide, which has been in place since 2007 . As part of the current agreement, Ascensia exclusively co-develops and supplies linking blood glucose meters from the CONTOUR®NEXT and CONTOUR®PLUS portfolios that are wirelessly compatible to communicate with Medtronic's integrated insulin pump and continuous glucose monitoring systems. These meters seamless integrate with the MiniMed® family of insulin pump systems, transmitting blood glucose results wirelessly directly to the insulin pump. These blood glucose monitoring systems are exclusively packaged and shipped as part of an integrated system with the MiniMed® Paradigm and 6 Series pump systems (including the MiniMed® 630G and MiniMed® 670G).

Ascensia has a strategic alliance with Insulet Corporation for the development and commercialization of the Insulet Omnipod DASH™ Personal Diabetes Manager (DASH™ PDM). The global development agreement was first announced in June 2017 and the global commercial agreement was announced in January 2018. Under the terms of the agreement, the CONTOUR®NEXT ONE blood glucose monitoring systems will connect via Bluetooth Low Energy to the DASH™ PDM, which has recently been approved by the FDA. The highly accurate CONTOUR®NEXT ONE has been optimized for use with the Omnipod DASH System and is the only meter designed to wirelessly transmit readings directly to the PDM.

Ascensia has entered into a commercial agreement with Dexcom, Inc. to provide the CONTOUR®NEXT ONE blood glucose monitoring system for inclusion in the bundle of supplies that is provided with the Dexcom G5® continuous glucose monitoring system to Medicare patients with diabetes in the US. This agreement is only applicable in the United States.

Ascensia and Glooko has a global technology partnership that integrates Glooko's Diabetes Data Management Platform with Ascensia's CONTOUR®NEXT ONE and CONTOUR®PLUS ONE systems. The integration allows blood glucose data from the CONTOUR®NEXT ONE and CONTOUR®PLUS ONE meters to be accessed by Glooko's Mobile App and Clinic Data Upload products directly from the meters via Bluetooth® connectivity. Data can be accessed by patients via Glooko's Mobile App and by HCPs via Glooko's Clinic Data Upload products.

Ascensia and Voluntis have agreed a global technology partnership. Under the terms of the agreement, the CONTOUR®NEXT ONE and CONTOUR®PLUS ONE meters will connect via Bluetooth to the Insulia® Diabetes Management Companion that has been developed by Voluntis. Insulia® will use readings from the CONTOUR®NEXT ONE or CONTOUR®PLUS ONE meters to calculate basal insulin dosing for people with type 2 diabetes.

Ascensia and Quattro Folia have entered into a regional technology partnership. Under the terms of the agreement, the CONTOUR®NEXT ONE and CONTOUR®PLUS ONE meters will connect via Bluetooth to the Balansio Mobile App that has been developed by Quattro Folia. The Balansio Mobile App includes a bolus insulin calculator for type 1 diabetes patients, and will use readings from the CONTOUR®NEXT ONE or CONTOUR®PLUS ONE meters to calculate bolus insulin dosing. Balansio is currently available in Finland, Sweden and UK.

Ascensia has signed an agreement with myDiabby Healthcare platform to connect to the CONTOUR®NEXT ONE blood glucose monitoring system via Bluetooth. MyDiabby Healthcare is an online platform for the follow up of people with gestational, type 1 or type 2 diabetes, which is available in France, Belgium, Switzerland and Luxembourg, and is used by more than 30% of French hospitals.

Ascensia and Health2Sync have entered into a collaboration that aims to improve diabetes care by bringing an integrated digital management solution to patients in Asia. As part of this collaboration, the companies have created a combined offering for people with diabetes that is comprised of the CONTOUR®PLUS or CONTOUR®TS blood glucose monitoring systems from Ascensia, the Health2Sync app and a loyalty program for users, known as the Ascensia Customer Care Program.
ALLIANCE AND PARTNERSHIP CONTACT DETAILS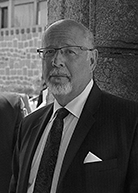 To submit a partnership opportunity,
please contact:
ALBERT PULIDO
Business Development and
Licensing
bdnl@ascensia.com
OUR APPROACH
Our goal is to provide products and solutions that make a positive, daily difference for people with diabetes. We want to make sure diabetes doesn't get the in the way of people's future, them to live richer lives.
LEADERSHIP TEAM
The Ascensia Diabetes Care Board of Directors is responsible for defining the company strategy, steering the business and taking operational and financial decisions to drive growth, innovation and efficiency.
ALWAYS LEADING THE WAY
Throughout our 70-year history we have always been at the forefront of innovation in diabetes care. Find out more about our firsts and breakthroughs.