ASCENSIA DIABETES CARE POLAND EARNS GREAT PLACE TO WORK CERTIFICATION
Warsaw, Poland
Ascensia Diabetes Care, a global diabetes care company, maker of the CONTOUR® Blood Glucose Monitoring (BGM) System portfolio and exclusive distributor of Eversense® Continuous Glucose Monitoring (CGM) Systems, announces that Ascensia Diabetes Care Poland has been awarded Great Place To Work certification.
Great Place To Work is a global authority on workplace culture, employee experience and the leadership behaviors proven to deliver market leading revenue, employee retention and increased innovation. It has been supporting companies around the world in developing a modern workplace.
The prestigious certification is awarded based on employee feedback about their experience working at Ascensia Diabetes Care Poland. The business received a high response rate from employees, with 91% participating in the survey, demonstrating significant internal engagement.
"For more than 80 years, the Ascensia team has innovated glucose monitoring technology and systems, showing consistent commitment to the global diabetes community as we built a positive workplace culture rooted in helping others," said Pawel Lupinski, Head of Ascensia Diabetes Care Poland. "This award is a positive reflection of the great place to work that the team has built at Ascensia Diabetes Care Poland and we hope it encourages people to come and innovate at Ascensia as we continue to grow and thrive."
This certification solidifies Ascensia Diabetes Care's position in Poland as an employer of choice with a positive workplace culture which is dedicated to supporting its employees and nurturing an inclusive and innovative working environment. [We are currently hiring for multiple positions, which you can find and apply for here.]
Ascensia Diabetes Care is a PHC Holdings Corporation (TSE: 6523) company.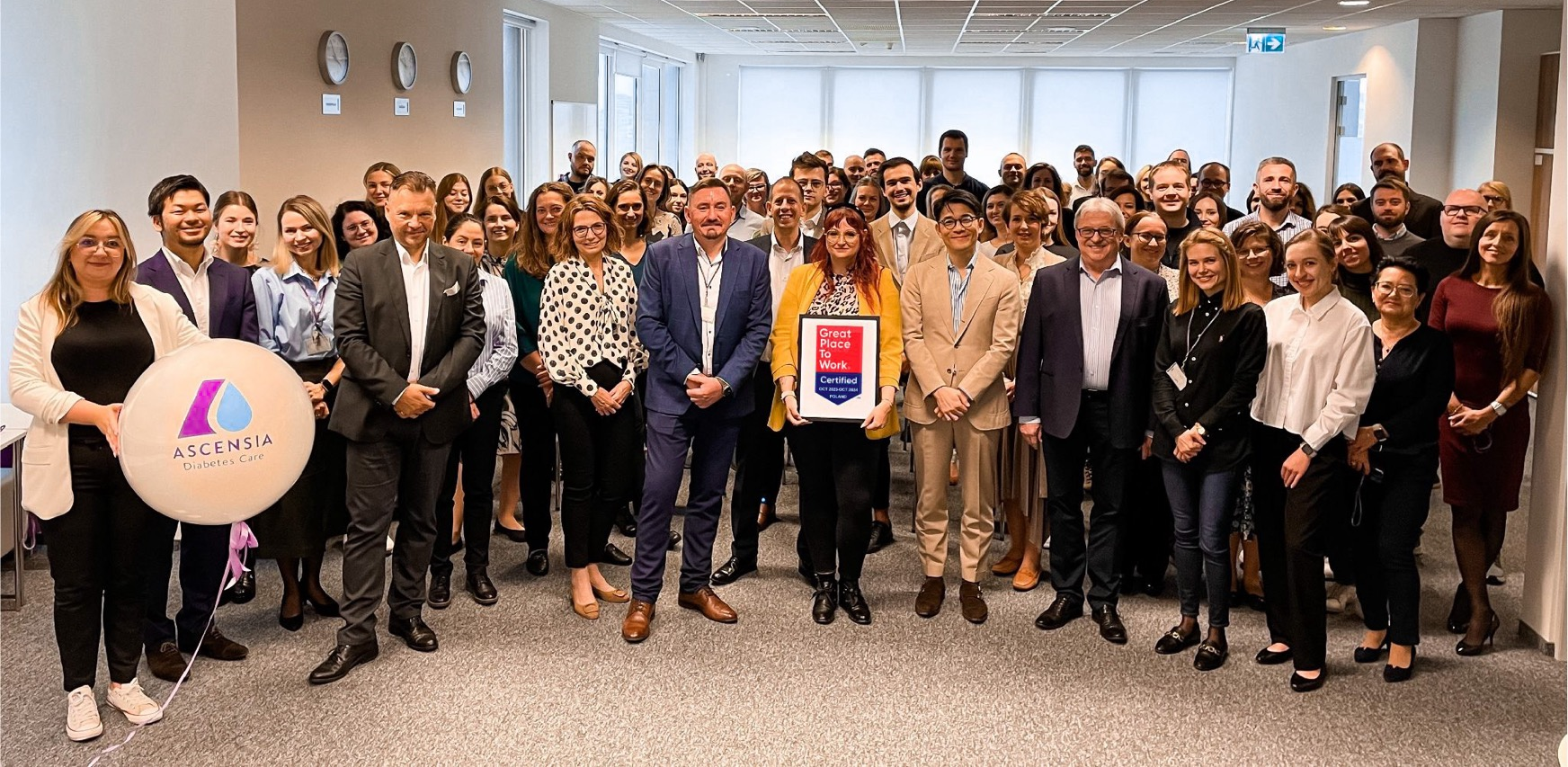 END

Notes for Editors
About Ascensia Diabetes Care
Ascensia Diabetes Care is a global company focused entirely on helping people with diabetes. Our mission is to empower those living with diabetes through innovative solutions that simplify and improve their lives.
We are home to the world-renowned CONTOUR® portfolio of blood glucose monitoring systems and the exclusive global distribution partner for the Eversense® Continuous Glucose Monitoring Systems from Senseonics. These products combine advanced technology with user-friendly functionality to help people with diabetes manage their condition and make a positive difference to their lives. As a trusted partner in the diabetes community, we collaborate closely with healthcare professionals and other partners to ensure our products meet the highest standards of accuracy, precision and reliability, and that we conduct our business compliantly and with integrity.
Ascensia is a member of PHC Group and was established in 2016 through the acquisition of Bayer Diabetes Care by PHC Holdings Corporation. Ascensia products are sold in more than 125 countries. Ascensia has around 1,500 employees and operations in 31 countries.
For further information, please visit the Ascensia Diabetes Care website at: http://www.ascensia.com
About PHC Holdings Corporation
PHC Holdings Corporation (TSE 6523), or PHC Group, is a global healthcare company with a mission of contributing to the health of society through healthcare solutions that have a positive impact and improve the lives of people. Its subsidiaries include PHC Corporation, Ascensia Diabetes Care Holdings AG, Epredia, and LSI Medience Corporation. Together, these companies develop, manufacture, sell and service solutions across diabetes management, healthcare solutions, life sciences and diagnostics. PHC Group's consolidated net sales in FY2022 were JPY 356.4 billion with global distribution of products and services in more than 125 countries. www.phchd.com
For more media enquiries, please contact:
Lorraine Chandler, Lorraine.Chandler@Ascensia.com