DISCLAIMER: Please note that author is an employee of Ascensia Diabetes Care. The opinions expressed here are solely the experience of the author and may not reflect the experience of all Eversense users or patients with diabetes.
---
After just under a year of using the Eversense® 90-day sensor, I was recently implanted with the new E3 CGM and have already seen some notable improvements. I am excited to have the opportunity to test both myself and E3 over the next few months as training for the ride really ramps up. The most notable features I have experienced so far have included how quickly the transmitter links with my phone, the secure feeling the adhesive provides without any skin irritation, and the additional time gap available for calibrations (up to 4 hours of readings after the first warning of needing a new calibration).
I was implanted with E3 six days before the 4th of July; a long weekend full of activity, food/drinks, and fun, which I planned to spend with my family. I am notorious for procrastinating any packing that I have to do. It's so bad that I keep extra pump supplies, insulin and test strips at my parents' house, so that I don't have to worry about forgetting anything when I make the trip home. Rather than actually change my packing habits, I threw all 180 days' worth of Eversense supplies on top of the clothes piled into my suitcase. Considering that all I need is the charger for the transmitter and some adhesives, this was no problem. Stop and think about that for a minute…can you imagine any other diabetes-related tech where half-a-years' worth of supplies would fit easily in a small suitcase full of clothes?
The weekend of the 4th was spent enjoying time in the sun, sitting on a boat, wakeboarding, waterskiing, and yes, enjoying a few beverages. We all know how nerve-wrecking it can be to partake in physical activities (like wakeboarding and such) after applying a new, traditional CGM sensor. It is terrifying to think I could lose a sensor to the lake after a few of the spills I took. However, for me, it was great to just take off my E3 transmitter before hopping off the back of the boat. After I was done, I just stuck a new adhesive to the transmitter and reapplied. Within 10 minutes, I had real-time glucose updates being sent to my phone again. I was also impressed with the sustained accuracy on those days. Despite leaving the transmitter off for hours on end*, it felt like the calibrations were always within 5-10 mg/dL.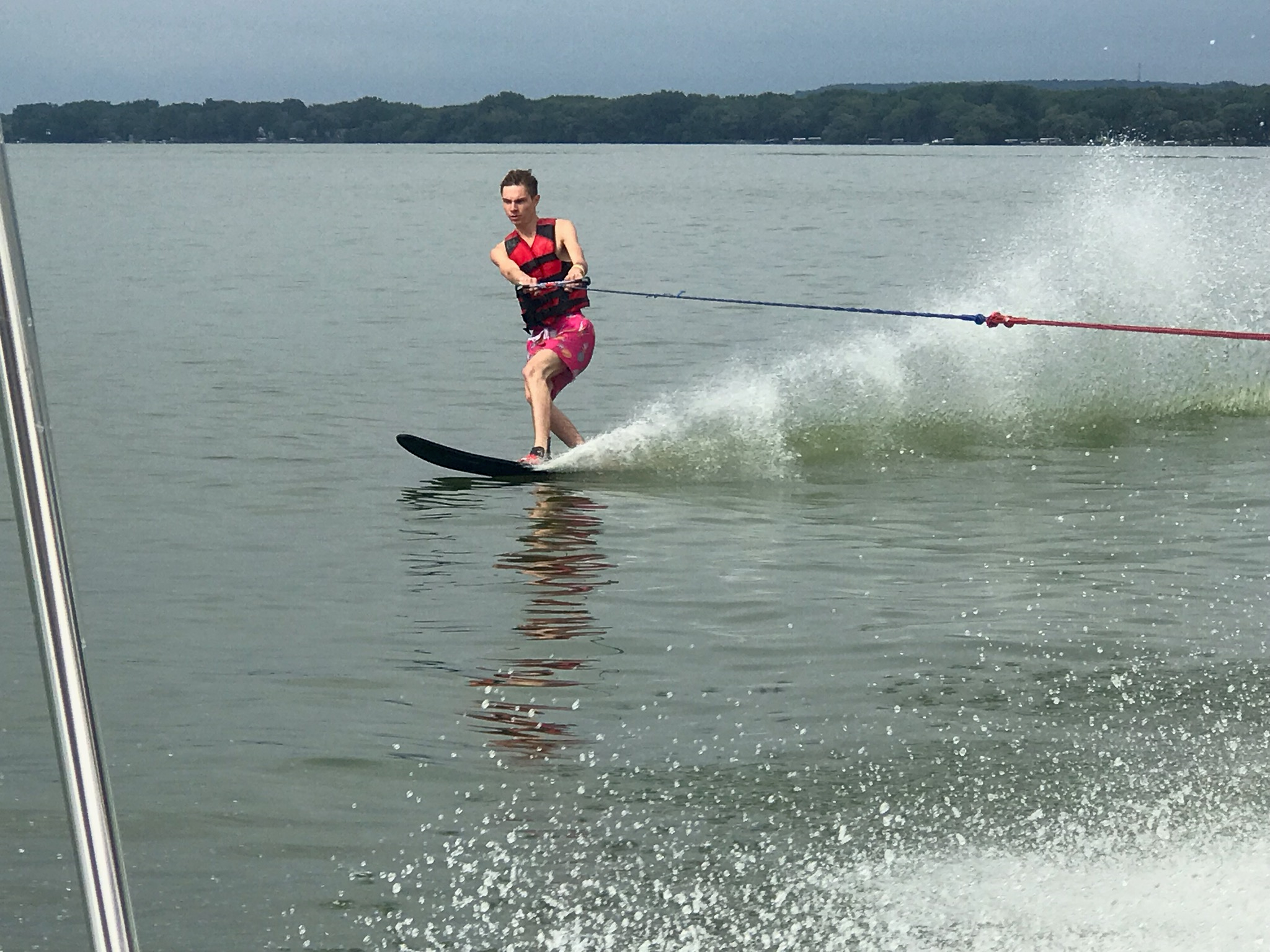 Unfortunately, my training for the JDRF ride itself has not been as seamless. I have hit a wall around 20-25 miles both due to time and blood sugar constraints. I have played and coached soccer the last few years, but those sessions normally last about an hour or two. After about an hour and a half of riding, I normally start to see a large dip in my blood sugar. I try and start my rides around 185 mg/dL so that I feel good and don't cramp. The trouble is that I am either being proactive and drinking Gatorade (or a slightly watered-down version) which sends me high, or I am sticking to water and end up going too low.
Pre-Eversense I probably would have ridden through a few more of these hyper/hypos until I really started to feel them in my performance and was forced to test with a finger stick. Now, with the on-body alerts, it has become something of which I am more acutely aware. For me, this information was a bit of a shock at first, as I had always felt good about my own hypo/hyper awareness. Going forward, I think I will try customizing the predictive alerts to tailor them towards a more active lifestyle. This should give me a bit of a "longer leash" during my rides.
At the end of the day, it is encouraging to have this information so that I can work towards finding a solution to get past this mileage/time wall I am experiencing during training. As one my tattoos says, "What you see depends on where you look," so if I look at the information and allow it to dissuade me from reaching my goal - that's on me. Instead, I'd rather use it to better understand what's happening with my body and so that I can adjust my training accordingly.
All of this is to say that training isn't always a linear experience. I'll find a way to counteract the problems with my glucose, but as I continue through my training it is nice to know that Eversense provides me:
With something to back up what my body is telling me about my glucose
A way for my friends/family to check in on their app to see how my glucose is doing during my ride
A way to easily send a report to my Endo highlighting the days I'm riding to see if there is something I am missing with my trends
With just under 3 months until the ride, hopefully I can work through these challenges quickly 😉
*Please note that readings do not occur without the transmitter.